Cost-effectiveness of options for a colorectal cancer screening programme in Ireland
Collaborators & co-investigators:
Mr Jim Chilcott, Dr Paul Tappenden, Dr Sophie Whyte, ScHARR, University of Sheffield
Dr Michael Barry, Dr Lesley Tilson, Dr Cara Usher, Dr Cathal Walsh, National Centre for Pharmaceconomics
Prof Anthony Staines, Dublin City University
Funding source:
Health Information and Quality Authority
Health Research Board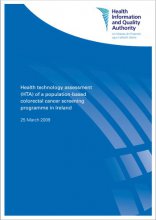 A proportion of colorectal cancers are preventable through screening. Several screening tests are available, each with their own strengths and limitations. Cost-effectiveness analysis provides a methodology for comparing the costs and benefits of alternative healthcare interventions.
The National Cancer Registry, in collaboration with ScHARR at the University of Sheffield and the National Centre for Pharmacoeconomics, undertook a cost-effectiveness analysis of colorectal cancer screening options in Ireland. Three screening scenarios were evaluated:
(1)   biennial faecal occult blood testing in the 55-74 age group
(2)   biennial faecal immunochemical testing in the 55-74 age-group
(3)   once-only flexible sigmoidoscopy at age 60.
An economic model developed by ScHARR was adapted for the Irish setting and populated, as far as possible, with Irish data.  Costs incurred by third party payers (i.e. the health services) were considered.
The analysis found that all screening options were considered highly cost-effective compared to no screening. Flexible sigmoidoscopy had the lowest incremental cost-effectiveness ratio. However, faecal immunochemical testing was associated with greater gains in quality-adjusted life years and reductions in lifetime cancer incidence and mortality.  Therefore, screening based on biennial faecal immunochemical testing in people aged 55-74 was considered the optimal option.
The results of this evaluation informed the advice from the Health Information & Quality Authority to the Minster for Health, and the ultimate decision to implement BowelScreen.
Related news: Related papers: Related publications: