Cancer in Ireland 1994-2004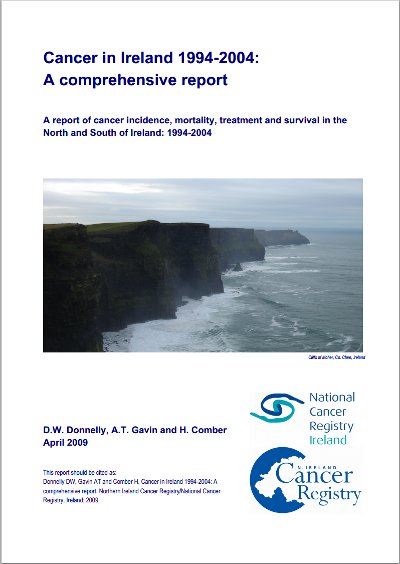 Collaborators:
Dr David Donnelly, Northern Ireland Cancer Registry
Dr Anna Gavin, Northern Ireland Cancer Registry
This is the third joint report between the Northern Ireland Cancer Registry and the National Cancer Registry and it reveals that each year over 21,000 people across Ireland were diagnosed with a form of cancer, with the most common being breast, colorectal, prostate and lung cancers.
Between 1994 and 2004 the most common cancers among men were prostate, colorectal and lung cancers and lymphoma, while among women breast, colorectal, lung and ovarian cancers were most often diagnosed.
Total incidence rates were 10 per cent higher for men and 2.2 per cent higher for women in the Republic of Ireland compared with Northern Ireland. The difference for men was mainly due to differences in prostate cancer diagnosis through increased testing in the Republic.
The report also showed that mortality rates were around 4 per cent lower in Northern Ireland for men and women.
While the overall number of cancers has increased due to population growth and ageing and increased detection for some cancers including prostate and breast cancer, the number of cancer deaths has fallen.
Improvements in survival for breast, colorectal and prostate cancer were recorded over the last decade and survival rates are not falling for any cancer.
The report was jointly funded by the Department of Health, Social Services and Public Safety in Northern Ireland and the Department of Health and Children in the Republic of Ireland.