Cancer care and survival in relation to centralisation of Irish cancer services: an analysis of National Cancer Registry data 1994-2015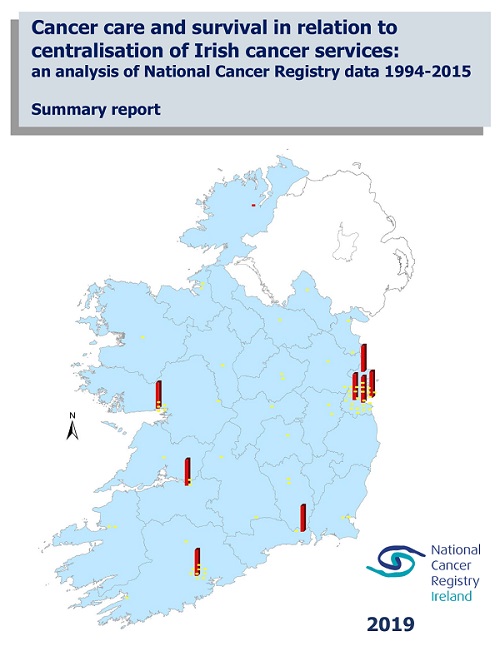 A report published by the National Cancer Registry today confirms that the programme of centralisation of cancer services begun by the HSE in 2007 has resulted in a substantial shift of cancer treatment (especially surgery) to eight designated cancer centres in Dublin and other cities, contributing to ongoing improvements in cancer survival.
In 2007, implementing a recommendation of the second (2006) National Cancer Strategy for Ireland, the Health Service Executive's National Cancer Control Programme (NCCP) initiated a programme of centralisation of publicly-funded cancer services (in particular surgical services) to eight high-volume, specialist centres with the aim of optimising treatment and improving survival outcomes. These centres are major publicly-funded hospitals located in Dublin city (four), Cork, Waterford, Limerick and Galway.
Of the cancer types included in phase one of NCCP surgical centralisation – cancers of the oesophagus, stomach, rectum, pancreas, lung, breast, prostate and brain / central nervous system (CNS) – the majority show clear evidence of recent centralisation, especially of surgical services. Evidence of recent centralisation is strongest for breast cancer patients and for surgical pancreatic, rectal, stomach and lung cancer patients, while centralisation has been long-established for brain/CNS tumours.
Patients in designated centres are generally more likely to receive surgical treatment, radiotherapy, chemotherapy and multi-modality treatment than patients in non-designated public hospitals.
Treatment in designated centres is, overall, associated with higher survival outcomes than for patients in non-designated public hospitals, even after accounting for differences in age, cancer stage and deprivation status of patients seen in different hospitals.
Treatment in private hospitals is also, overall, associated with good survival outcomes and high use of appropriate treatment modalities. The extent to which centralisation may have occurred among private hospitals has not been examined.
Differences in the appropriateness or quality of treatment, or unmeasured differences in general patient health affecting suitability for treatment, are likely to be contributing to survival differences between hospital categories.
Average differences in treatment or survival between categories do not necessarily apply to all individual hospitals within a category, as most private or non-designated hospitals treat very small numbers (while a few hospitals treat more substantial numbers) of cancer patients annually.
At national scale, the expectation is that centralisation, combined with specialisation and standardisation of diagnostic and treatment services within or across designated cancer centres, has benefited patients. However, centralisation is not the only factor contributing to survival improvements, as wider improvements in cancer services (treatment and screening) have also occurred over recent decades.
Further work to more fully explore and explain the findings here is needed, including: factors contributing to survival differences between hospital categories; the relative contributions of centralisation, general improvements in treatment, and improvements in screening/ early detection to cancer survival improvements nationally; updating of analyses as centralisation progresses (including additional cancer types); economic implications of centralisation; referral patterns and treatment quality for patients in non-designated public hospitals.