Cancer in Ireland 1994-2015 with estimates for 2015-2017: Annual Report of the National Cancer Registry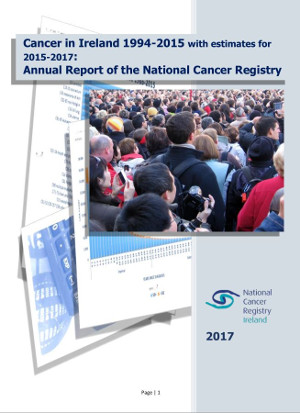 The latest annual report from the National Cancer Registry indicates that, although rates of cancer (taking account of age and population size) appear to have stabilised or even fallen recently, numbers of cancers diagnosed continue to rise annually, mainly due to ageing and growth of our population. In combination with ongoing improvements in survival for most cancer types, this has resulted in a growing numbers of cancer survivors among the general population.
A total of about 167,700 cancer survivors (previously diagnosed with an invasive cancer other than non-melanoma skin cancer) were estimated to be alive at the end of 2015 (equivalent to 3.6% of the Irish population). This includes, for the first time, estimates of the numbers of survivors from cancers diagnosed before the Registry was established in 1994.
The top six most common cancers represented among the surviving (prevalent) cancer patient population were: breast cancer (24% of all cancer survivors), prostate cancer (20%), colorectal cancer (13%), skin melanoma (7%), non-Hodgkin lymphoma (4%) and lung cancer (3%).
Based on the latest available complete information, it was estimated that 33,180 invasive cancers, or 22,320 cancers excluding the generally non-fatal non-melanoma cancers of skin, were diagnosed annually during 2015-2017 (or 40,570 cancers or other registered, non-invasive tumours). The risk of developing cancer was higher for men than for women, overall and for most cancer types.
Total numbers of cancers diagnosed annually continue to increase, albeit more slowly in recent years, as the population grows and ages. However, incidence rates of cancer expressed per 100,000 persons (adjusted for age and population changes) have stabilized or even fallen slightly since about 2010 or 2011, following earlier periods of sustained increase from 1994 onwards. Rates of the top three major cancers in men (prostate, colorectal and lung), are now declining or static. Rates of female breast cancer have fallen since 2008, though lung cancer rates in women are still rising. These trends broadly reflect a range of public health and early-diagnosis initiatives in Ireland.
Cancer is the second most common cause of death in Ireland after diseases of the circulatory system, and an annual average of about 8,770 deaths from invasive cancer occurred during 2012-2014. Lung cancer was the leading cause of cancer death in both sexes, accounting for 19% of cancer deaths in women and 23% in men. The risk of dying of cancer was about 34% higher for men than for women.
Overall cancer mortality rates (adjusted for age and population) have continued to fall since 1994, as have mortality rates for most individual cancers. However, mortality rates for liver cancer, melanoma of skin and (in women) lung cancer and uterine cancer continue to increase, reflecting ongoing increases in incidence for these cancers.
Other sections of the report summarise time-trends in chemotherapy use in Ireland; cancer survival (by cancer type, diagnosis period and stage); and emergency presentations by cancer patients.
Commenting on the figures, Professor Kerri Clough-Gorr, Director of the Registry and Professor of Cancer Epidemiology at University College Cork, said "This year's report again highlights a recent stabilisation or even decline in overall cancer risk among the Irish population, but some individual cancers (for example melanoma and female lung cancer) continue to show worrying increases in incidence and mortality rates. As the population grows and ages, and treatment and survival improve, the population of cancer survivors — now estimated to be almost 170,000 people — continues to grow.  Planning for the long-term support and follow-up needs of cancer survivors is an important health priority, as recognised by the recently published National Cancer Strategy 2017-2026."